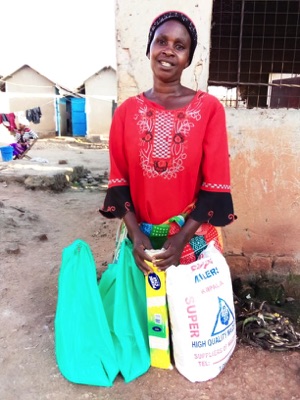 January 2021
Dear Friends:
Mackline survived the genocide in Rwanda in 1994 that killed over 1 million people. She and her husband ran from Rwanda and came to Uganda as regfugees. They were defrauded, and evicted from the refugee camp. Then they were homeless until they found some employment as farm workers. Eight years ago, her husband abandomed her. Now Mackline is a single mother raising six children.
Imagine yourself in Mackline's place, desperate during this pandemic, everything shut down, barely scraping by with meager food supplies trying to feed your family. Mackline struggled to have school fees for her children, but then a famine came and she didn't know what to do. Through generous gifts, Heal the Nations was able to provide famine relief with cornmeal and beans for 100 families. Mackline was a recipient of this food donation in the midst of the Christmas season. It made her and her entire family immensely happy and appreciative of Heal the Nations, and all the generous donors.
Indeed, 2020 was a challenging year throughout the entire world. The Covid 19 pandemic created challenges for all of us, closing down transportation and limiting trade. In the United States we were fortunate that much of the retail industry was able to transition to digital purchases. But in Uganda the country locked down all meetings and gatherings, including the local outdoor markets, where people meet once a week to trade their goods, the only method of trade for most of Uganda. These people don't have Amazon or any other method for buying and selling, so the shut down made them even more dependent on their ability to grow their own food in order to survive. When drought limited crop growth, people living on the margins became even more vulnerable.
Ezra is a drug addict whose son was 12 days old when the child's grandmother brought the baby to the clinic all wrapped up in cloths. The woman came in weeping, crying about how sick her baby was and calling on Mother Mary to forgive and heal the baby. She asked God to let the punishment of sin come on the adults and said it would be better if the baby hadn't been born rather than suffer from this illness. The boy had a fever and was covered with sores all over his body. It was almost impossible to find a place on his body where the skin was intact. The grandmother had learned of the child's illness only four days before, and told the baby's mother to bathe him with local herbs, but he only got sicker. At that point they took up the baby and walked to the clinic.
At the clinic, we tested Ezra's son for malaria, but that test was negative. The staff considered several possible scenarios and came up with a plan that required giving this newborn a painful injection. Fortunately, the baby responded dramatically and was doing much better by the end of the treatment. He was able to breast-feed and went home. One week later the mother brought the baby back for his routine immunization. The baby was strong and perfectly healed. The grandmother disclosed that the father while under the influence of drugs had been beating the mother while she was pregnant. She was superstitious that this had brought a curse on the child. The family was so happy about the baby being healed and thankful to Heal the Nations medical programs for saving the baby's life.
Ezra, the child's father, who had been distant initially, took note of the child's healing and became very thankful, even taking responsibility for the child's bill. Family and friends are touched by the compassionate care provided by our clinic. Many express their deep gratitude to us for saving the lives of little children and pregnant mothers!
No matter where we live, some of the biggest factors determining our health are our social situations. Financial resources, education, environment and infrastructure, community development, and access to healthcare are all key factors for good health. In the remote Ugandan villages where we serve, these resources are extremely limited. There are no simple fixes, but we continue to meet the people where they are and touch the problems that they come to us with. We take them by the hand and lead them into a promising future.
2020 stressed everyone! But I'm thankful that God brought us safely through. I was able to keep my job and didn't miss a day of work because of the pandemic. We started doing Telehealth for people who could not come in. We were able to get some K-N95 facemasks before the huge rush on these products as the pandemic began. We went for walks on trails without crowds. We took a driving trip out of town for a week and we were refreshed and thankful.
I'm just as thankful that I can be a part of this program that has such a great impact on the lives of vulnerable women and children and the communities in remote Ugandan villages. I need your help to continue support in this program. I pray that as we reach out to meet the needs of these people, that we will understand more clearly how God reached out to bring life and healing to us through his son Jesus Christ.
Sincerely
Paul Higbee MD
PS: Your generous gifts help to sustain the clinic, staff, and programs of Heal the Nations in Uganda, allowing us to continue to meet the needs of people like Mackline, and Ezra's little boy. We spend about $200 per month in on-going medication expenses. In addition, we spent a total of $1,466 on famine relief and are blessed that half of this amount has been donated already. But we still need $700 to support the next crisis. Can you help?